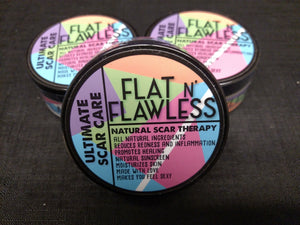 Flat N' Flawless - Scar Care Cream
This product was specifically made for post-operative scarring. Using a mix of essential oils, all-organic and natural ingredients to create a product that helps reduce redness and inflammation. Promotes healing and acts as a natural sunscreen!  Created AND tested by individuals in the LGBTQ community and individuals with experience with post-operative scars on their chests, arms, legs, and stomach.
All-natural and organic ingredients combined with love in a spiritual environment create this beautiful cream. The main purpose is to promote healing and reduce redness and inflammation. The Ultimate Scar Care acts as a natural sunscreen, it keeps the skin and scar moisturized, and it smells great! 
  
Recommended use: use a small amount twice a day. 
(a little goes a long way!) 
  
This is a 2oz/60ml container. Depending on how much you choose to use and where on your body, 1 container usually lasts someone 2 months. 
Allergen Information:
This product contains Wheat Germ Oil. Although only a trace amount of gluten MAY be in this product, it is not recommended to use if you have celiacs or gluten intolerance.